Nicole Fende and The Numbers Whisperer® Team are on a mission to grow your bottom line.
Meet the characters guaranteed to make you laugh all the way to the bank.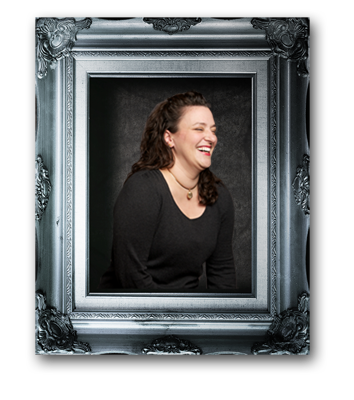 Nicole Fende, The Numbers Whisperer®
Nicole wrangles your wallet, tames your financial fears and delivers practical advice to boost your bottom line. She is an actuary, experienced investment banker, and an accomplished air guitar player. This "How to be a Finance Rock Star" author attained CFO status before age 30! She shares her wealth of knowledge with others through her online training program, Rock Your Profits. And she has the most infectious laugh on the planet.
Join Nicole and learn how to laugh all the way to the bank.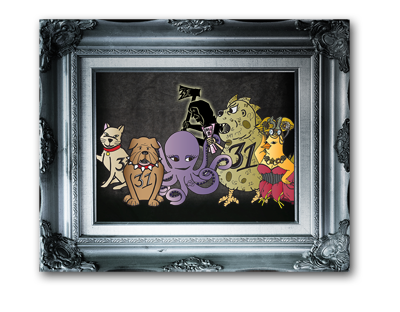 Mascots and Villains
A few years ago Fluffy the Finance Feline joined forces with Nicole, becoming The Numbers Whisperer® mascot. A mascot is a touchstone, a rallying point, and a cheerleader – who wouldn't want one? Fluffy is quick to pounce on profits and helps everyone else do the same.
Like potato chips we couldn't stop at just one. A hero needs a villain to fight right? Of course bad guys seem to flourish, so Fluffy needed additional help. The crew now numbers six.
Pictured from left to right: (MASCOTS) Fluffy The Finance Feline, Maxine the Math Mutt, Olivia the Crafty Cephalopod (VILLAINS) SPK "Serial Profit Killer", The Number Muncher, Debbie the Distractor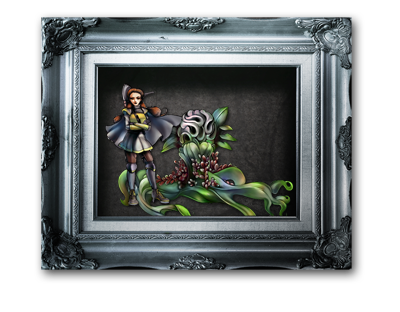 Brenna Rain and Co-Pilot Stan
As a kid I loved all things Star Wars (the original). I wanted to be a Jedi Knight. I knew the names of all the ships, characters, and planets in the movies. Ask my Dad, he was always trying to trip me up and find one I couldn't name. The only Barbies I owned were inherited from my older sisters. I pretended they were Amazons in the fight against the Empire.
I grew up, but never lost my love for all things sci-fi. I looked for a place that married business with a genre filled with dedicated fans. Couldn't find it. So I created one.
Bounty Hunter Brenna Rain is my alter ego in the quest for growing profits. Expect to see much more from her in 2015 and beyond.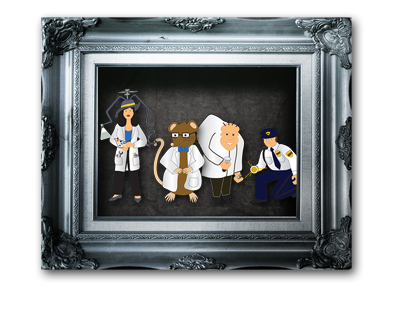 Small Biz Profit Lab Crew
Running a business is like a giant petri dish. You experiment to discover what makes you money, and what doesn't. Wouldn't it be nice to speed up the process? To have a business lab that focused on accelerating profits and eliminating failure. Small biz heroes to the rescue!
Call a Biz Hero co-host Laura Petrolino and I created The Idea Incubator. This board game helps you determine if an idea is golden or rotten in 30 minutes or less. The game will be launched in 2015. In the meantime, the profit lab crew will helping out around here.
Ready to grow your bottom line?
Browse our books, tools, and kits. Take an ecourse that lets you learn at your pace (and has cool badges). Work one-on-one with Nicole to supercharge your success. Need a speaker that won't bore people to tears? Book Nicole to speak at your next event.